The great  thing about living in Los Angeles besides the weather is, that you run into very talented people. I have arranged and orchestrated music, performed and produced albums for and with the artist below.
Total Inspiration (2008) Artist: J.J. JonesOur follow-up album. 10 moving and inspirational tracks featuring J.J. and the Hollywood Studio Symphony Orchestra.
Nobody Does It Better  (2008) Artist: David Wilson
Our 8th collaboration and his 10th CD release..David and his unique style of playing brings back the great love songs/ballads of the 60s and 70s.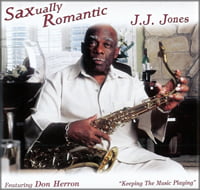 Saxually Romantic (2006) Artist J.J. Jones
I co-produced , arranged and orchestrated 10 new tracks for Tenor Saxophonist JJ Jones.
"Smooth Jazz with a romantic touch. J.J. played with artists like Sam Cooke back in the 50s and had his own record label producing many artists like Eula Cooper etc.
Piece Of Our Minds (2005) Artists:
John O'Hurley & MarstonJohn O'Hurley, actor, musician and spokesman, is most known for his portrayal of the eccentric catalog king, J. Peterman, on the hit show "Seinfeld." He asked me to orchestrate and arrange his original compositions. This CD, in collaboration with electric cellist Marston has been a hit on cdbaby and HSN.
Elegancia (2004) Artist: David Wilson Our 7th collaboration.
This time we enjoyed the flavor and vibrancy  of Latin-American music. A.C.Jobim is still my favorite composer in that genre.